Thuraya SatSleeve for Android Galaxy Smartphone ( Includes Samsung Galaxy S4 Adapter)
The Thuraya SatSleeve for Android Galaxy is a satellite adapter that transform your Android Galaxy S4 into a satellite smartphone.

Thuraya SatSleeve is the smartest, fastest and simplest way to use your Android Galaxy S4, S5, & S3 phone as a satellite smartphone and have access to phone calls, emails, instant messages and popular social media apps in satellite mode, across 140 countries in Africa, Europe, Middle East, Russia, Central Asia, and parts of China.
The Thuraya Satsleeve will not work in the United States or The Americas. Please see coverage map below.
Note: The SatSleeve for Android comes with an adaptor for Samsung Galaxy S4 inside the package. Adaptors for Samsung Galaxy S3 & S5 are available separately.

The Thuraya SatSleeve can be used across the Thuraya network either with a Thuraya Prepaid or Postpaid SIM card. Thuraya SatSleeve enables you to enjoy universal satellite coverage even in the most remote environments.
Thuraya's congestion-free network automatically re-allocates Network resource to any single spot beam, allowing Thuraya SatSleeve users to enjoy uninterrupted connectivity beyond the reach of terrestrial communications and cellular networks.
Learn more about Thuraya Prepay Standard and Nova Airtime Sim Cards
---
Product Features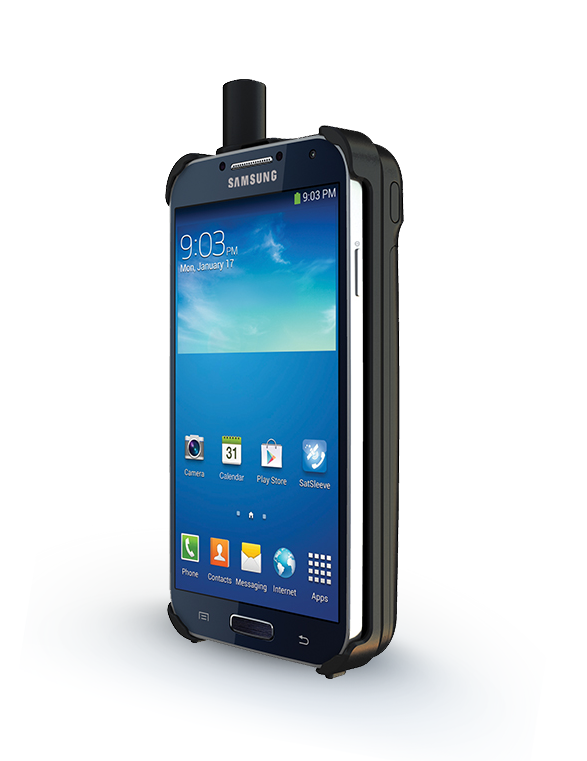 Calls and text messages in satellite mode
Make calls and text in satellite mode whenever there is no terrestrial network available
Email on the go
Access emails in satellite mode, no matter where you are.
Take your favorite Social Apps Anywhere
Enjoy using applications such as Facebook, Twitter, WhatsApp and many more, so you can chat and update your profile in places with no terrestrial network reach.
Compatibility with the iPhone
The SatSleeve Application is available as a free download from the Apple App Store.
User- Friendly
Simply dock your iPhone into the SatSleeve to enjoy satellite connectivity. Available in 12 languages, the user-friendly SatSleeve App allows you to easily integrate your iPhone address book for satellite calls and messages.
Emergency Call Button
Thuraya SatSleeve comes equipped with an Emergency Call button, allowing you to make an emergency phone call to one predefined number even without your iPhone docked.
Supported by a powerful satellite network
Thuraya's satellite network is well-known for being a powerful satellite coverage that covers over 140 countries or two-thirds of the globe. Thuraya SatSleeve enables you to receive calls even with the satellite antenna stowed, keeping you connected at all times.
Changeable smartphone adaptors
Different smartphone adaptors for the SatSleeve provide you with the flexibility to use the SatSleeve with others smartphone models such as S3 and S5.

---
HOW IT WORKS

-Download the SatSleeve application from the Apple App Store
-Dock your iPhone into the SatSleeve
-Enjoy calls, messages, emails, and access your favorite Apps in satellite mode
---
Box Contents for the Thruraya SatSleeve
---
Thuraya SatSleeve Adapter for Samsung Galaxy S4

Docking Unit

Li-Ion rechargeable battery 2440 mAh

USB-microUSB data cable

AC Power Adapter 110-220V, 50/60Hz AC

International plug kit

User manual (English, Arabic, Russian, French, other)
Note: Android Galaxy phone is not included
---
System & Coverage

The Thuraya systems coverage is largely over Africa and parts of the Middle-East and Asia. This system however is a moving ahead rapidly. Their line of satellite phone are more advanced than other competitors. So if you live in this any of these regions then this might be a wonderful choice for you.
---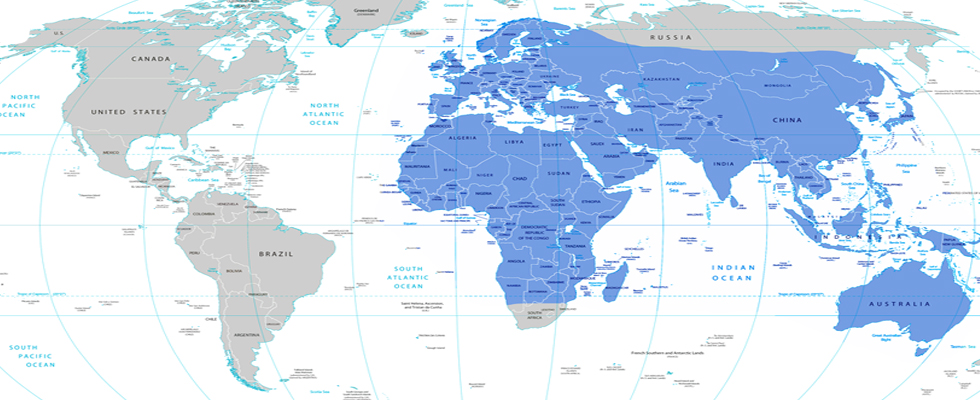 ---
Specifications
Technical Specifications: Power Supply: Output DC 5V / 2.0A (with EU/UK/CN/AUS adapters) Battery: 3.7V Li-ion, 2440 mAh Stand By: Up to 36 hrs Tal Time:Up to 3 hrs Satellite Data Speed Download 60 kbps, Upload 15 kbps (GmPRS) Operating Temperatures -10 to +55 °C Storage Temperature -20 to +70 °C Application Language Arabic, Bahasa Indonesia, Chinese (simplified), English, French, German, Italian, Japanese, Korean, Portuguese, Russian and Spanish
Product Reviews
This product hasn't received any reviews yet. Be the first to review this product!