Inmarsat iSatPhone Handheld Satellite Phones offer global connectivity an unmatched voice quality where there is no cellular ground system. Inmarsat satellite phones are popular for use on water and land. Inmarsat's newest satellite phone the iSatPhone 2 has proven that Inmarsat is making large steps of progress in the field of handheld satellite phones. The new phone has emergency response programmable systems, tracking and much more features.
To learn more click on each of the product below as well you can review the comparison chart.
iSatPhone 2 Satellite Phone: The new generation iSatphone 2 is a reliable tough satellite phone that offers unmatched battery life and excellent voice quality that works over the reliable Inmarsat network. This phone has been engineered to withstand harsh environments, from searing heat to icy blasts, desert sandstorms or monsoon rain. The safety features of this phones makes it ideal for users in sectors such as civil government, oil and gas, NGOs, and media.
iSatPhone Pro Satellite Phone: Previous model to the new iSatphone 2 satellite phone. This satellite phone has been discontinued. Please call for availability. The iSatPhone Pro satellite phone lets you makes call around the globe and comes with other added features.
---
Comparison Chart Of Most Common Satellite Phones
---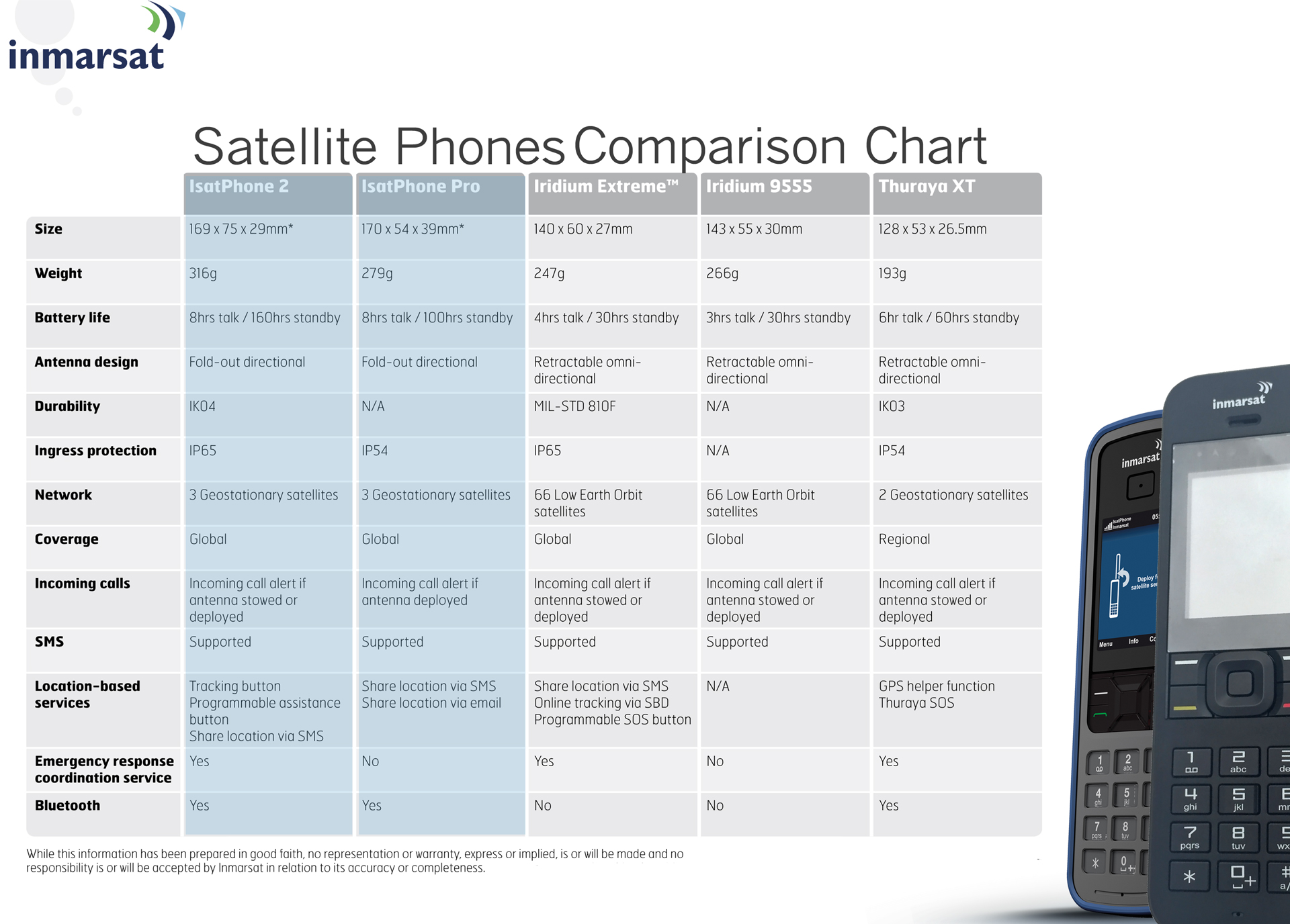 ---
Inmarsat Network System
---
Inmarsat satellite phones operates over the global Inmarsat satellite network, which has an average network availability of 99.9 percent so you can depend on iSatPhone 2 or iSatPhone Pro for reliable voice connectivity, wherever and whenever you need it. The Inmarsat global network system consists of 3 Geosynchronous (Stationary, or Fixed in one position) satellites set on the equator thousands of miles above the earth.