Posted by NorthernAxcess Satellite Communications on 4th Feb 2014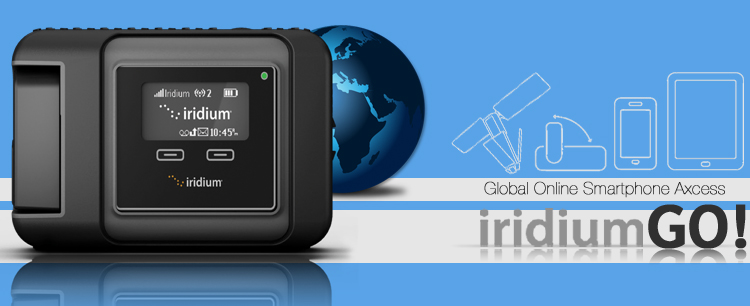 The Iridium GO! and what you should know
---
The Iridium Go is taking the Satellite Communication industry into a new generation, that will allow anyone with an iPhone, iPad, Android smartphone, or tablet to communicate through a global satellite network in the form of small pocket-sized device with a wifi hotspot . The new Iridium Go will be something that will be fit for any kind of group, or any kind of situation. This will allow all those with smartphones to connect to the wifi hotspot of the iridium Go through an Application which can be downloaded from the Apple Store, or Android Store. Once connected the user opens the iridium application, and from there can choose to make a call, send an email, text, update their favorite social media.This will allow people to make calls from areas that do not have any cell coverage, or where roaming fees are way too much. This will be great for Hikers, Corporate Business Travelers, Fisherman, Oil and Gas, Military, and the list goes on.
Till now, even with the most advanced Iridium Extreme 9575, if you wanted to send email using it, you would have to configure it to use with your laptop, or buy a separate device such as the Axcess Point to project a wifi hotspot to allow you to use your smartphone to send email,..but you still would have all that stuff hooked up, so it made it hard to do, and carry around. Plus you would have to use some sort of compression software
This new Iridium Go literally is an All-In-One device and will take all the hard configuring out of the process, and will allow the user have more mobility than ever before. For Hikers, climbers, and many more this will be a dream come true.
New Functionality & Features
This new device has a list of new functionality that will make it the worlds first All-in-one device that allows for voice calls, data such as text/sms, email, GPS tracking, and SOS feature to let your loved ones, or emergency services know where you are in case of trouble, a new wide range of social networking so you can blog about your adventure to Mt McKinley,and also a photo transferring feature so you can share your pics over web/email.
The other interesting thing about the new GO is that Iridium will be offering out the developers kit for the ones that want to build their own custom applications for the system. So basically iridium will be giving them the backdoor to the connection to the network. This will allow for limitless possibilities in the area of applications. They will be able to design custom apps that will give the customers their remaining prepaid minutes or tell them the calls they've made through the month, possibly a way to reload prepaid airtime right from the app that automatically sends an email to their origanl provider in which they bought their first prepaid card, or integrate with other applications that track the iridium satellite constellations and much much more. The limitations are endless. It will be exciting to see what develops in this area of the system applications. By iridium giving out this information it is also inviting many more to explore the realm of satellite communication which has been the one thing that lacks in this niche industry of big business, private industry, or the privileged adventures. Hopefully this technology will create more of a need and connect more of the world together than ever before. Either way, this is going to bring the satellite communication world into the next century and give us more personal control thanks to the Iridium Network.
Making Satellite Phones Affordable
This is the start of a new wave of satellite communication technology that is going to get more affordable, and integrate more with our average everyday cell phones. Having the option to make satellite calls is something that all of us should have. We all have gone to spots that do not have cell coverage, or even have been at the epicenter of some tragic moment that has taken down cell towers or at least tied them up. For these reasons alone, being able to always know that you can get a call out, or send an email, or text to someone wherever you may be is a warm feeling that would make all of us feel good.
The Iridium Go will be making global satellite communication a bit more cost effective going into the new year, as its noted that the price point will be around $899. This is great news for many since the average price of a satellite phone is over $1000, and with that you have a large satellite phone that is not quite the smallest thing to take out on a hiking trip where weight is a major concern,..so this will be the beginning of some great advancements in satellite communication marked proudly by the Iridium network.
When & Where can you purchase the Iridium GO!
They say they will be delivering shipments around the end of July 2014, so if you want to be one of the first in line to get yourself the newest thing to keep you connected with the world, then you can Pre-Order these starting soon on our website here at NorthernAxcess ..."where professionalism does make a difference" . You will also be able to see and read about the new iridium go and it features on our website as well as put yourself in line for getting one of the first ones out by submitting a pre-order. If you would like to read Iridiums brochure on the the Go!, then click here to see all the specs and features as well as see what type of industries that it is good for here at ' Iridium Go Brochure'
If you would like to Pre-Order the Iridium Go, then you can click on the link here at 'Iridium Go Pre-Order'. Plan rates will range from $40 to $140, with a possible unlimited data plan at $140. Get in line for yours today!!