RedPort Aurora Iridium Fixed Data & Voice WiFi Terminal
The Iridium RedPort Aurora allows to use your smartphone as a satellite phone. Aurora is a fixed terminal that provides voice, data and GPS tracking service via Wi-Fi to smartphones, tablets or computers; giving you worldwide coverage over the Iridium Network. Aurora only needs one cable, powered Ethernet, there are no power cables, no external antennas to attach, no complicated installation.
With the Aurora you can make a satellite voice call from your iPhone or Android phone, check email and download weather files over WiFi, even share location with others. Have all you need in one Terminal, with no additional equipment needed for boat or building installations. The Aurora is built to be the most convenient solution in the most extreme places on Earth.
Iridium Aurora gives you the power to communicate anywhere you need to go at a great price!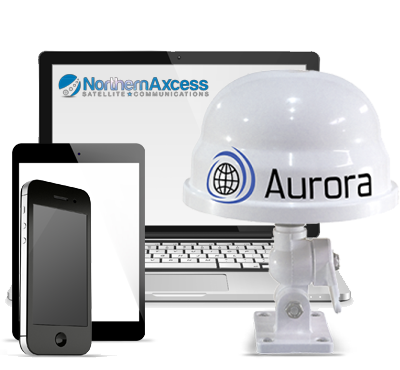 Where to Use RedPort Aurora Iridium WiFi Terminal
This terminal is highly recommended for large installations like a vessel or a building and for seasonal users who don't want to be locked with yearly airtime contracts. Also perfect to install on working trucks and for military camps.
Maritime Solution –At Sea
Iridium Aurora comes with improved features, and more convenient to use than other solutions. You can save money by buying just one terminal instead of a full handheld satellite phone setup that needs, a satellite phone, a docking station, an external antenna, an antenna cable and Wi-Fi router to work; The Satellite phone Setup also have the limitation of not be able to use your smart phone to make voice calls.
Fixed Solution-On Land
Iridium Aurora is a weather-proof dome and only use a single Ethernet cable for power, making installation easier and less expensive than fixed phones that require long runs of antenna cable and complicated network setup.
PRODUCT FEATURES
Satellite Calls via Smartphone:
The Aurora comes pre-configured for voice. Just download the free XGate Phone app to your iOS or Android device and talk on your smartphone using your Iridium Prepaid or Postpaid satellite airtime.
Onboard Network with Multiple Phone Lines
Up to 4 lines can speak to one another over the local network, giving you a complete local phone system with extension, voicemail, and ringing options. Because Aurora uses VoIP over local Wi-Fi, none of these calls consume airtime. Use Ethernet phones, SIP Wi-Fi phones, or a smartphone.
Aurora Data Optimization
Aurora come with built in data RedPort Optimizer hardware inside. Aurora blocks unwanted data and handles all the dialing, while working hand-in-hand with XGate satellite data service.
Satellite Email, Weather, Web, and Social Media
XGate satellite data service that provides accelerated satellite email, weather, web browsing and social media posting for Facebook, LinkedIn and Twitter. XGate works with Microsoft Windows, Apple Macintosh, Linux, Apple iOS and Google Android operating systems.
Vessel and Asset Tracking
Aurora special compression technology and advanced GPS engineering allow for the transmission of small bits of data (like GPS pings) at a fraction of the airtime cost of most satellite phones or terminals. This means that you can track your ship at pre-determined intervals. That information can be loaded onto an individualized webpage with real-time tracking information so family and friends can see where you are.
Aurora is a NMEA 2000 compliant GPS Wi-Fi Repeater allowing to share Aurora's GPS data with virtually any of the marine electronics on your vessel in real time. You can steer your boat with an iPad rather than a traditional GPS.
Works Over Iridium Network Coverage
Iridium is the only truly global satellite network offering unmatched communications, performance and reliability advantages. RedPort Aurora uses an Iridium 9523 module for reliable satellite voice service and 2.4KBps data services.
If you are looking for a smaller mobile satellite WiFi Hotspot and Voice terminal you can check out the Iridium GO.
Specifications
Aurora Technical Specifications •Dimensions: 7.28 in Diameter (185mm), 7.09 in high (180mm) •Weight: 4 lbs •Temperature: -22° F to 158° F (-30° C to +70° C) •Certifications: FCC, CE, and RoHS •WiFi: 802.11 b/g •Power: Power over Ethernet
Product Reviews
This product hasn't received any reviews yet. Be the first to review this product!