Inmarsat IsatPhone Prepaid 500 Units Sim Card -Valid for 365 Days
The Inmarsat Isatphone 500 Units prepaid sim card offer low rates with no contracts for the Isatphone Pro and Isatphone 2 satellite phones. This sim card is valid for 365 days from the activation date. The prepaid IsatPhone sim cards gives you the control and flexibility of pre-paid minutes that you can replenish at any time. With these prepaid card you don't have to be concerned about contracts or monthly access charges. Every IsatPhone Pre-paid calling card remains active for a valid period of time which starts on the date of activation.
*All Prepaid IsatPhone Pro SIM Cards require a one-time $15.00 Activation fee.
---
GENERAL INFORMATION
No Monthly Access Fee.

Voicemail is included at no cost.

One unit = 1.3 minute of voice calling to a Fixed phone.

All Prepaid Calling Cards can be replenished.

The availability of service at the edge of coverage areas fluctuates depending on various conditions. 10 Degree elevation is the minimum recommended for IsatPhone Pro and Isatphone 2.
Prepaid Balance Inquiry Instructions
Enter your balance enquiry code, *106# on the main screen of the IsatPhone Pro or Isatphone 2 and press the green key. Your current balance and expiration date will be shown on the screen. Also you can dial 591# from your IsatPhone satellite phone or dial +870772000591# from a Landline (Long Distance Charges Apply).Ensure to have your satellite phone number ready.
How to Redeem a Prepaid Voucher
From the main screen of the IsatPhone Pro or Isatphone 2 enter the following code, *101*Voucher Number#. Example: *101*1234567892214123456# and press the green key. Your new balance and expiration date will be shown on the screen.
---
TERMS AND CONDITIONS
All Prepaid Calling Cards have a maximum of validity after which they Expire.

Calls billed in 15 second increments

At replenishment, any remaining unused minutes/units are rolled over. The new valid period for which the Prepaid Calling card is active will start on the date of replenishment and extend for the duration of the replenishing Prepaid Calling Card's term. (30, 90, 180 or 365 days according to plan chosen.)

There is no grace period on the Inmarsat Isatphone Prepaid Calling Cards.

Mobile Originating calls from the USA, its territories including 12 nautical miles offshore are not permitted on IsatPhone Prepaid Calling Cards.
---
Voice, Data and SMS Units Rates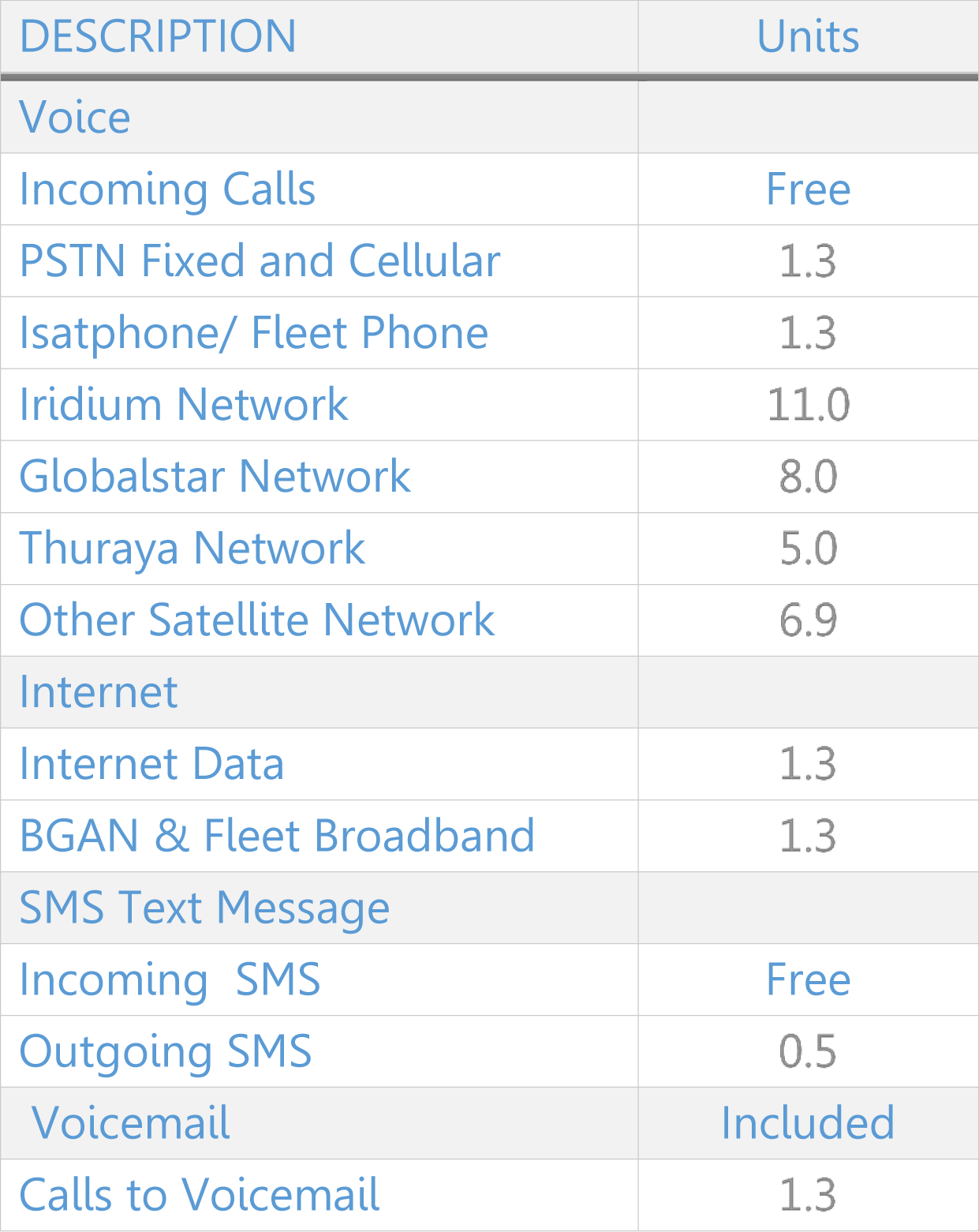 Product Reviews
This product hasn't received any reviews yet. Be the first to review this product!