Inmarsat BGAN Satellite Voice & Data Standard 5 Megabytes Airtime Plan
The Inmarsat BGAN Standard 5 Megabytes airtime plan includes 5 Megabytes of data per month for basic data usage. This plan offers affordable voice and data costs and global connectivity. BGAN is the fastest global internet access available via a portable satellite terminal.
The Inmarsat network technology such as the BGAN's provides fast and efficient internet connection, allowing you to download files, e-mail or attachments, web browsing in remote areas and basically allowing you to have a remote office or connection to the world wherever you go without the use or need of terrestrial ground towers or cellular coverage which can be much higher rates when traveling abroad and inconsistent service or signal strength.

---
In order to activate a new BGAN Monthly airtime postpaid plan, we need a signed copy of the BGAN Monthly airtime service agreement.
After receiving signed agreement, the, activation takes about a four hours, however sometimes there are delays in Inmarsat's system and activation can take up to 48 hours. We recommend requesting activation 48 hours prior to when you will actually need the airtime, just in case there are some delays in the system.
---
BGAN Monthly Standard Plan Airtime Fees and Costs
---
Monthly Service Fee: $70.99
MB included per Month: 5 Megabytes
Overage Data: $6.65 per Megabyte
Minutes Included in Plan: 0 per month
Overage Voice: $0.99 per minute (Voice to fixed & Voicemail)
**All other voice calls may incur a surcharge (*See Table Below).
SMS: $0.90 per message.
Fax: $6.00
There is a first-time $50.00 activation fee for new BGAN postpaid accounts. This Plan requires a minimum 12 Months Contract Period.
---
General Information - BGAN Monthly Postpaid Airtime
Call rates for voice calls are per minute, while background IP is per Megabyte.

Voice calls 30-seconds minimum, 15-second increments thereafter. Data calls 50KB minimum, 10KB increments thereafter.

Calls to voicemail are charged at the same rate as a call to a landline. Activation of voicemail is free.

Incoming calls are free, however, the calling party will be charged international rates by their carrier. You can add a USA Local number service that can reduce these rates through a VOIP forwarding service.

Plans may be upgraded to other plan anytime.
---
Inmarsat BGAN Monthly Additional Services
---
BGAN Streaming IP Rates
The BGAN Streaming rates are for selectable Quality of Service Internet Protocol (IP) Streaming. All BGAN Terminals enable broadband communications that can be utilized to establish audio/video conferencing. Streaming services can be used by broadcasters to stream live video with dedicated bandwidth, in remote areas where traditional cellular service may be unreliable or non-existent.
Streaming services connect to the Internet just like standard BGAN services, however streaming services are charged by the minute of use instead of by Megabyte transferred like standard BGAN services.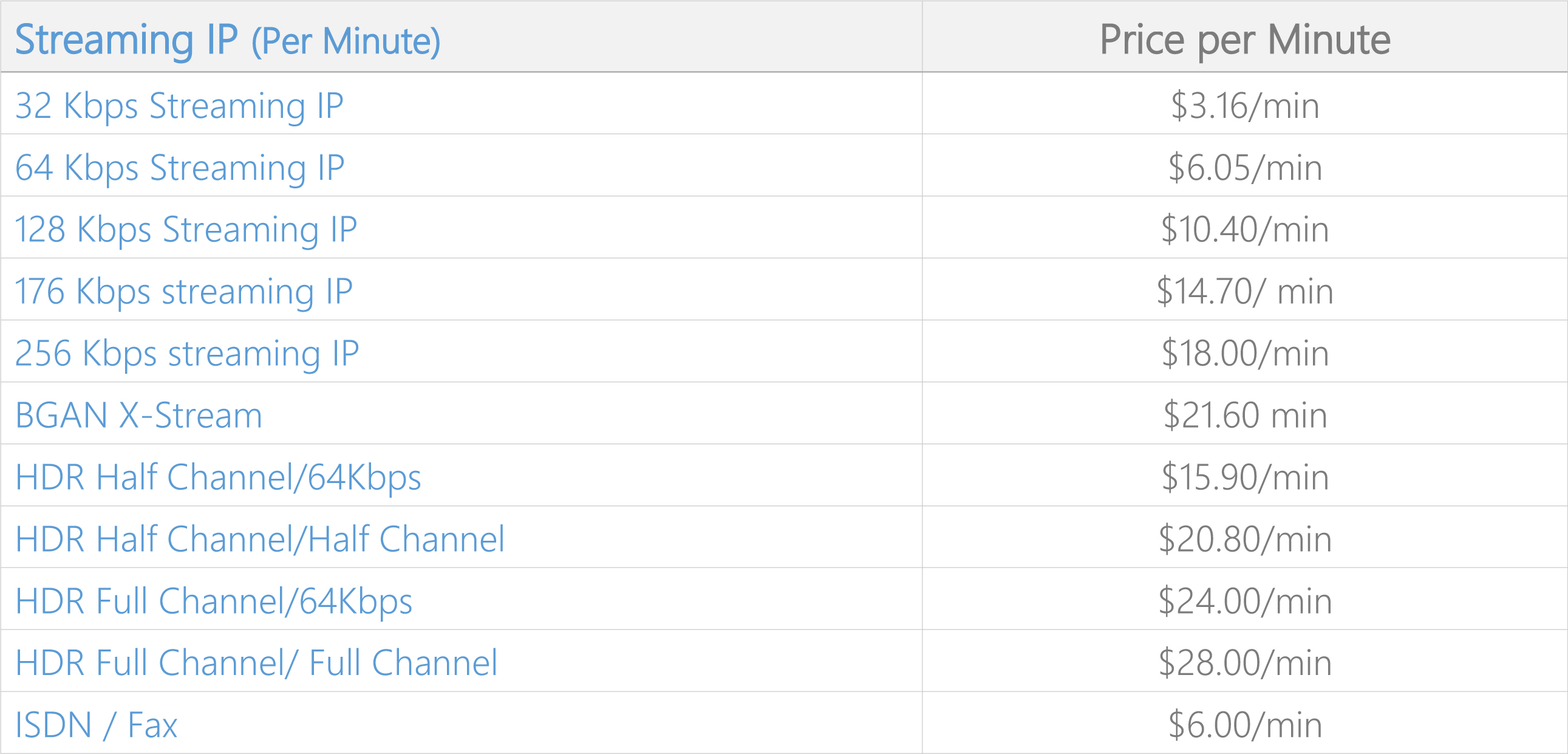 ---
BGAN Terminals calls to another Satellite phone or another Satellite Terminals
---

---
Terms and Conditions
There is a one-time activation fee of $50.00 with monthly accounts. There is no activation fee for upgrading an active BGAN Sim Card.

The BGAN Monthly service may be used worldwide over the global Inmarsat-4 satellite network.

All monthly BGAN plans auto-renew after termination of the contract commitment. Subscriber must notify in writing 30 days in advance to cancel service. Notification can be send via email, fax, or mail.

There is no rollover of unused voice and data for the monthly plans.

Circuit Switches Voice, SMS and Standard IP services are supported.

A $200.00 Fee for Early Termination applies to all Inmarsat BGAN Monthly Airtime plans

The End date of any contract is always last day of cancellation month.

All Monthly Airtime Rate Plans are subject to monthly System Access Fees and Taxes.

BGAN Monthly airtime is non-refundable.

Prices are subject to change without notice.

Prices do not include any applicable taxes.

Customer authorize NorthernAxcess to charge the credit card specified in the Inmarsat BGAN Monthly Airtime agreement for monthly subscriptions costs, calls, SMS, Data & overages. By buying this product customer also agree to NorthernAxcess Terms and Conditions.

---
Inmarsat Coverage Map
---
The Inmarsat network uses four geostationary satellites to provide voice and data communication services almost anywhere in the world. Because Inmarsat coverage extends from latitudes of -82° to 82° regardless of longitude, higher latitudes will have lower performance. Registration to the network requires a clear line of sight to the equator and may not be suitable for use in canyons or mountains.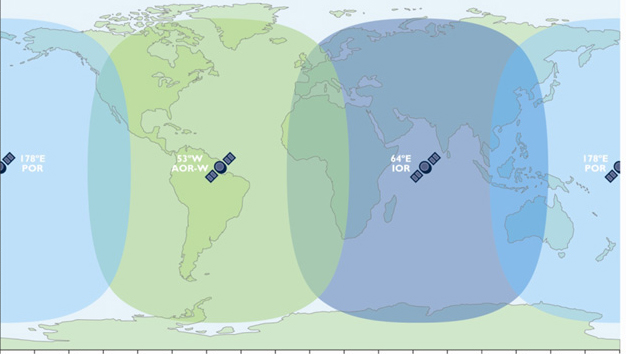 This map depicts Inmarsat's expectations of coverage, but does not represent a guarantee of service. The availability of service at the edge of coverage areas fluctuates depending on various conditions. National regulatory conditions may apply. Coverage does not cover the poles
Product Reviews
This product hasn't received any reviews yet. Be the first to review this product!