Cobham Sailor Fleet One Marine Satellite Internet & Voice Terminal
Overview
SAILOR Fleet One is the ideal complement to the new Inmarsat Fleet One service, which uses the existing Inmarsat-4 satellite constellation to deliver excellent satellite voice and connectivity services that are ideal for use on smaller boats. With its compact, lightweight antenna and simple installation, SAILOR Fleet One is an entry point to the world of maritime satcoms that keeps you connected at all times at a low cost.
Data & voice
SAILOR Fleet One enables data connectivity up to 100kbps and voice calling on a single line. Its capabilities offer significant communications functionality for a variety of recreational and fishing users who need reliable voice communications and Internet connectivity on board, when cellular networks aren't available, or just don't offer the quality needed for good communication.
Unrivalled design
SAILOR Fleet One is designed to the same high standards as the existing SAILOR FleetBroadband product line; quality that more than 35,000 end-users have experienced so far. With ease of use and durability at the forefront, SAILOR Fleet One can be relied upon to provide reliable, high quality communications whether cruising offshore or fishing for a living.
Easy installation
The SAILOR Fleet One antenna is light and easy to install, even on small boats, and connecting to the below deck equipment is simple enough that owners can handle the installation and maintenance themselves. It may be small, but it packs enough power to deliver plenty of bandwidth for email, web browsing and social media sites and stay connected with your love ones.
First choice for Fleet One
Built by the people behind the leading SAILOR FleetBroadband range, SAILOR Fleet One is the first choice for boat owners choosing the Fleet One service because it ensures reliable connectivity even on smaller boats that don't have the room, or the budget, for larger satcoms antennas.

---

---
Box Content of the Cobham Sailor Fleet One Marine Satellite Internet & Voice Terminal
---
403050C-00581 SAILOR Fleet One Above Deck United (ADU)

403739A-00581 SAILOR Fleet One Below Deck Unit (BDU)

37-107338 SAILOR 10m Antenna Cable

1m Power cable (10-32V DC input)

83-141368 SAILOR Fleet One CD rom w. UIM,QG,IG

Printed Quick Guide
Additional Accessory
403670A-00500 Thrane IP Handset incl. cradle, wired - Not Included ( You can Add a IP Handset for an extra $450.00)

---
Fleet One Inmarsat service Coverage Map
The Global Fleet One maritime Inmarsat service offers special low rate prices to any fishing or leisure vessel while inside of the in-region zones marked in green in the map below.
Coverage has been extended for all Fleet One plans to include:
All continental coastlines to 200NM or greater
Panama, Suez, Malacca out-of-region corridors
Inland waterways.
New 2015 (connections from 1st May 2015) plans will prevent out of region data usage.
The Fleet One antennas will automatically connect to any of the three I-4 satellites without user interaction or change to the service plan. There may be some signal degradation on the edges of the map depending on various atmospheric conditions.
Please note that a Fleet One SIM can only be used with a Fleet One terminal.
---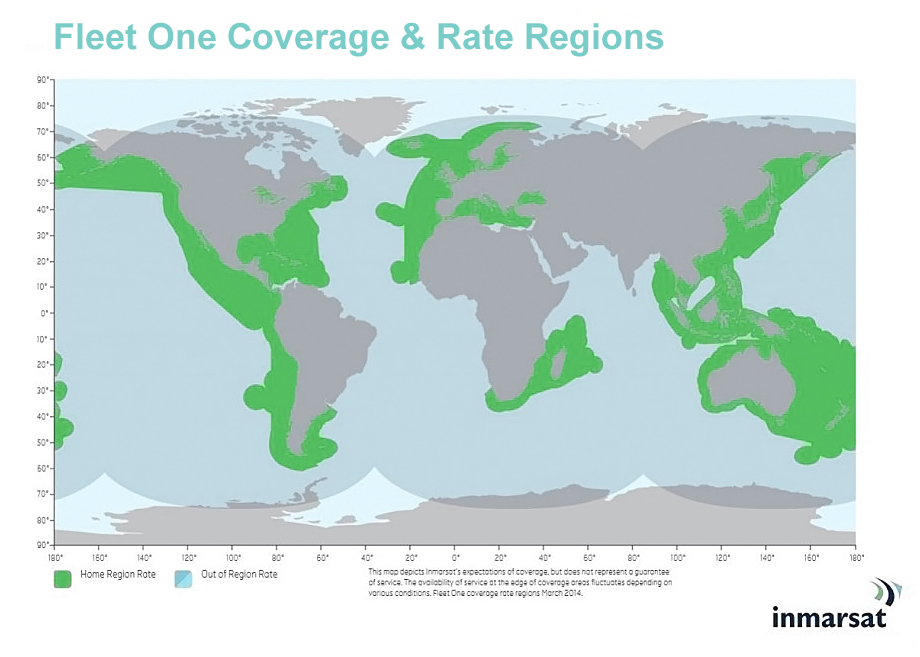 Specifications
Part # 403744A‐00581 -Above Deck Unit Weight: 3.9 kg -Below Deck Unit Weight: 2.0 kg -Standard IP Speed: Up to 100 kbps -Voice Speed: 4 kbps -ADU Measurements: 291.9 x 275.6mm -BDU Measurements: 278 x 231 x 41 mm -SMS Characters: Up to 160 Characters
Product Reviews
This product hasn't received any reviews yet. Be the first to review this product!