IsatPhone Pro Freedom Kit-Includes Satellite Phone, 100 Prepaid Minutes & Backpack
NorthernAxcess brings the IsatPhone Pro Satellite Phone Freedom Kit that includes the satellite phone that offers the ultimate combination of features and performance designed to work in just about any conditions, 100 IsatPhone Pro Prepaid Minutes and a Single Strap Adjustable Backpack.
This item has been discontinued and has been replaced with the Inmarsat iSatPhone 2 Satellite Phone. This new phone has many feautures such as SOS button, Military top rating IP 65, GPS tracking, pageability, calls can be recieved with antenna stowed, and faster registration time to the satellite.
Be ready to explore the world with your IsatPhone Pro Kit and enjoy clear voice quality while communicating with your family, friends, and coworkers. Also this satellite phone has the longest battery life in the market. The IsatPhone Pro 100 minutes card is valid for 180 days from the activation date. You can activate the card within 60 days. There is no activation fee for the airtime when purchasing this kit. The Camouflage Military Backpack makes it easier to carry your IsatPhone Pro satellite phone and all the accessories because it has a comfortable padded shoulder strap, leaving your hands free and you will be carrying your satellite phone in a safe and stylish back pack. If you are a hiker, or do extreme outdoors sports, this kit will fit your communications needs.
If you need more prepaid minutes, we will adjust the kit according to your needs. Just give us a call and we will take care of it.
Box Contents
---
IsatPhone Pro Handheld Satellite Phone
Battery
AC Wall Charger and International Adapters
DC Car Charger
Micro USB Cable
Wired Hands-Free Headset
Wrist Strap
Quick Start Guide
Warranty
Support CD
Inmarsat 100 Minutes Prepaid Card – Valid for 180 Days
Stylish Single Strap Adjustable Backpack
---
Inmarsat Isatphone Pro Satellite Phone
The IsatPhone Pro satellite phone delivers clear voice quality and offers exceptional features such as SMS text messaging , emailing and GPS look-up-and-send, as well as supporting a data service of up to 20kbps. One of the most robust handsets in the market and purpose built for Inmarsat-4 network - the most refined satellite communications network in the world.
The IsatPhone Pro is compact, easy to use, and budget friendly, making it one of the most cost-effective satellite communications alternatives offering very competitive airtime pricing.The IsatPhone Pro has a color screen and up-to-date software, with a similar smartphone appearance.
PRODUCT FEATURES
Reliable network
The unrivalled record of 99.9 per cent network availability reduces the risk of dropped calls.
Global coverage
IsatPhone Pro coverage is worldwide, apart from the Poles. Calls are made via a single, global network so there are no roaming charges.
Clear voice quality
Exceptional clarity of calls, comparable with mobile cellular, giving clear voice recognition.
Robust handset
Operates at -20°C to +55°C, is dust and splash proof (IP54) and extremely robust. It also has a humidity tolerance from 0 to 95 per cent.
Long battery life
Battery life is one of the longest on the market, with up to 8 hours' talk time and 100 hours standby.
Bluetooth
Supports Bluetooth - rest the handset on its side for easy hands-free

---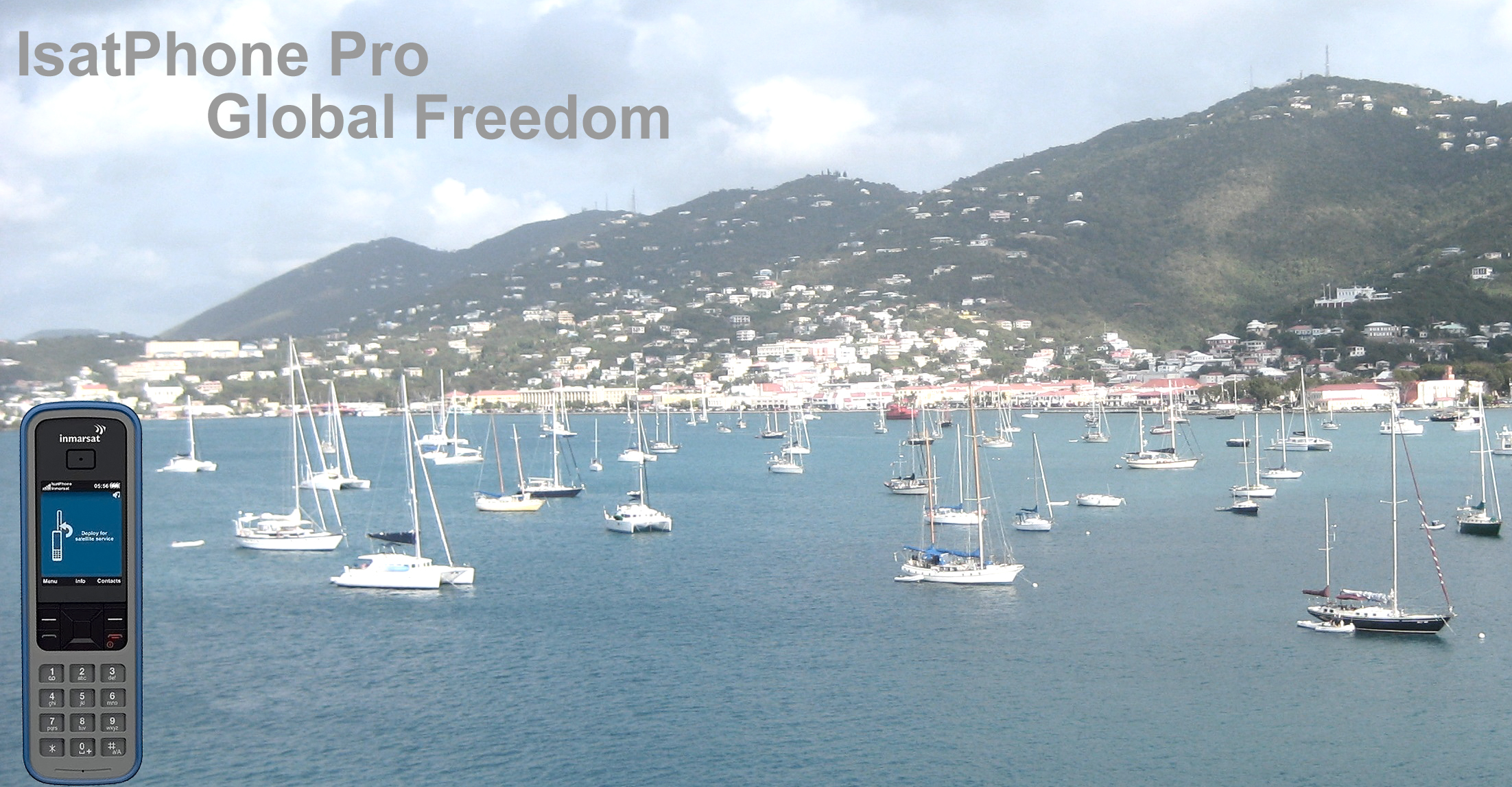 ---
IsatPhone Pro Prepaid Card – 100 Minutes
The IsatPhone Pro Pre-paid calling card service offers you the control and flexibility of numerous pre-paid minutes' options. With these prepaid cards you don't have to be concerned about contracts or monthly access charges. Every IsatPhone Pro Pre-paid calling card remains active for a valid period of time which starts on the date of activation. For more information about the IsatPhone Pro prepaid plans click here.
Single Strap Adjustable Backpack
Stylish Camouflage Military look Backpack, zippered main compartment, two zippered front pockets, zippered accessory pocket & pen slot on padded shoulder strap w/ plastic snap buckle and poly-web handle on top.
---
Inmarsat System & Coverage
The Inmarsat network is also a global system and consists of 3 Geosynchronous (Stationary, or Fixed in one position) satellites set on the equator thousands of miles above the earth. Because of the fact that the satellites are GEO, or fixed satellites, which means that they do not move from their set position, whereas LEO satellites are constantly moving. This makes it so that the equipment needs to be pointed directly at the satellite to register on the network. The Inmarsat network is actually one of the oldest networks. Their name 'Inmarsat' stands for 'International Marine Satellite'. They started as a largely marine based satellite network and mostly still are to this day.
Specifications
Specifications Part # ISATPHD-101 Dimensions Length: 170mm (6.7") Width: 54mm (2.1") Depth: 39mm (1.5") Weight 279g (9.8oz) - including battery Display High visibility color screen Interfaces Micro USB Audio socket Antenna port Bluetooth 2.0 Ingress protection IP54 Operating range -20°C to +55°C (-4°F to +131°F) Storage range -20°C to +70°C (-4°F to +158°F)(with battery) Charging range 0°C to 45°C (32°F to 113°F) Humidity tolerance 0% to 95% Battery Type Lithium-ion, 3.7 volts Talk time Up to 8 hours Standby time Up to 100 hours Charging time 3.5 hours Satellite telephony 2.4kbps voice codec Speakerphone option Voicemail Speed dial 1 Supplementary voice services Call history Caller ID Call waiting Call divert Call holding Conferencing Call barring Speed dialing Fixed number dialing Text-to-text 160 Latin / ~74 non-Latin characters up to 10 concatenations Standard and predictive text Text-to-email 160 Latin / ~74 non-Latin characters up to 10 concatenations Incoming email - 160 characters Web message-to-IsatPhone Pro Free from www.message.inmarsat.com GPS location data View position Send as text/email Features Calendar Alarm Calculator Minute minder - in-call alert Microphone muting Contact synchronization With MS Outlook 2007 (PC) O/S compatibility: Windows XP Pro SP3 and Windows Vista SP Data: Transmission speeds of about 2.4 Kbps or 20Kbps with compression are standard, this should not be considered a normal Internet connection. You will be required to configure your email and other applications to transmit and receive minimal amounts of data for this service to be practical. Bag pack Specifications •SIZE: 9inch X 15-3/4inch X 4-1/2inch •600D Polyester •Color: Gray Camouflage •Weight: 0.52 LBS

NorthernAxcess:

Product Shield Plan

Two Years:

$199.00

Free Repairs:

Basic Repairs

Software Upgrade:

Firmware Upgrade

Point of Contact:

Messaging

More Information See:

Product Service & Protection Category
Product Reviews
This product hasn't received any reviews yet. Be the first to review this product!