Inmarsat IsatPhone Pro Adventure Package - Includes Satellite Phone, Watertight Hard Case & Solar Panel
The IsatPhone Pro Satellite Phone Adventure Package includes the satellite phone that offers the ultimate combination of features and performance designed to work in just about any conditions, Watertight Hard Case and a Solar Panel. This Adventure package is a great alternative if you are going to be in places exposed to harsh conditions or in remote locations without electricity. The IsatPhone Pro satellite phone offers the longest battery life in the industry with eight hours of talk time and up to one-hundred hours of standby time. The robust handset meets IP54 standards. With a hard case and a solar panel included in this package, makes it very suitable for military use, emergency response crews, fishermen, or adventurous backpackers. You can keep your IsatPhone Pro safe inside the watertight hard case and always be able to charge your phone with the Satstation Solar panel that gives you 18 watts of power. The folding design of this solar panel make it very easy to carry it.
This item has been discontinued and has been replaced with the Inmarsat iSatPhone 2 Satellite Phone. This new phone has many feautures such as SOS button, Military top rating IP 65, GPS tracking, pageability, calls can be recieved with antenna stowed, and faster registration time to the satellite.
IsatPhone Pro Satellite Phone Adventure Package includes:
---
IsatPhone Pro Handheld Satellite Phone
Battery
AC Wall Charger and International Adapters
DC Car Charger
Micro USB Cable
Wired Hands-Free Headset
Wrist Strap
Quick Start Guide
Warranty
Support CD
Watertight Hard Case
SatStation Solar Panel
---
Inmarsat Isatphone Pro Satellite Phone
The IsatPhone Pro satellite phone delivers clear voice quality and offers exceptional features such as SMS text messaging , emailing and GPS look-up-and-send, as well as supporting a data service of up to 20kbps. One of the most robust handsets in the market and purpose built for Inmarsat-4 network - the most refined satellite communications network in the world.
The IsatPhone Pro is compact, easy to use, and budget friendly, making it one of the most cost-effective satellite communications alternatives offering very competitive airtime pricing.The IsatPhone Pro has a color screen and up-to-date software, with a similar smartphone appearance.
Product Features
Reliable network
The unrivalled record of 99.9 per cent network availability reduces the risk of dropped calls.
Global coverage
IsatPhone Pro coverage is worldwide, apart from the Poles. Calls are made via a single, global network so there are no roaming charges.
Clear voice quality
Exceptional clarity of calls, comparable with mobile cellular, giving clear voice recognition.
Robust handset
Operates at -20°C to +55°C, is dust and splash proof (IP54) and extremely robust. It also has a humidity tolerance from 0 to 95 per cent.
Long battery life
Battery life is one of the longest on the market, with up to 8 hours' talk time and 100 hours standby.
Bluetooth
Supports Bluetooth - rest the handset on its side for easy hands-free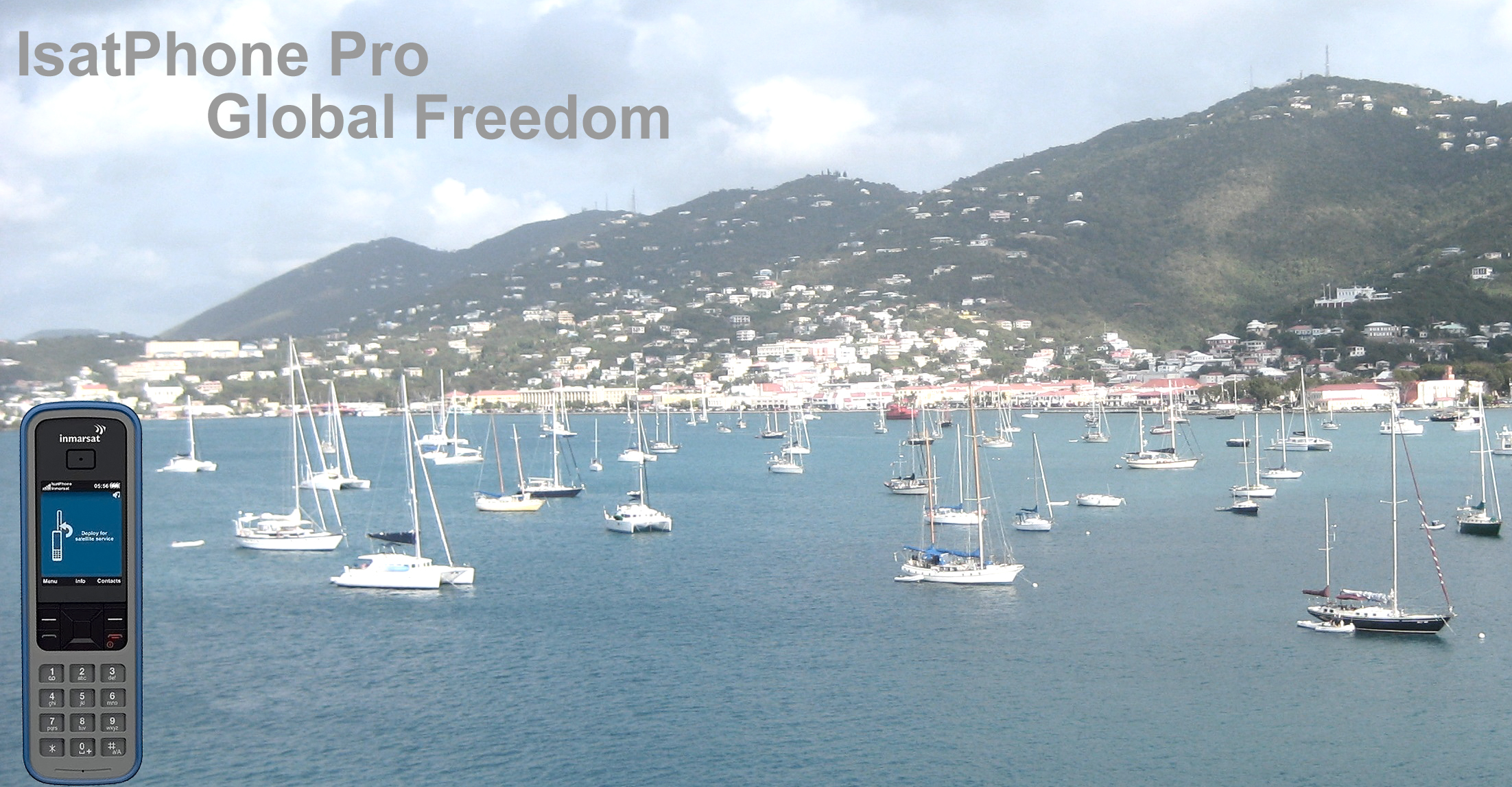 SatStation SolarPak 18 Foldable Solar Panel
The SatStation SolarPak 18 Foldable panel gives you ultimate power in a small compact design. This panel gives you 18 watts of power. Be prepared for an emergency and use it as a back up to charge your satellite phone. This solar panel has a Smart protective integrated circuit to avoid over discharging, overcharging, and overcurrent.
Pelican 1200 Watertight -Hard Case
The Pelican 1200 Watertight-Hard Case is designed to protect your satellite phone from harsh weather conditions, dust and debris. The custom foam insert is designed to fit the IsatPhone Pro satellite phones accessories such as chargers, adapters, data cables and batteries. The insert will also ensure that your satellite phone is not moving loosely in the case while you are traveling.
Inmarsat System & Coverage
The Inmarsat network is also a global system and consists of 3 Geosynchronous (Stationary, or Fixed in one position) satellites set on the equator thousands of miles above the earth. Because of the fact that the satellites are GEO, or fixed satellites, which means that they do not move from their set position, whereas LEO satellites are constantly moving. This makes it so that the equipment needs to be pointed directly at the satellite to register on the network. The Inmarsat network is actually one of the oldest networks. Their name 'Inmarsat' stands for 'International Marine Satellite'. They started as a largely marine based satellite network and mostly still are to this day.
Specifications
Specifications Model: ISATPHD-101 Part # AC2660900 Dimensions Length: 170mm (6.7") Width: 54mm (2.1") Depth: 39mm (1.5") Weight 279g (9.8oz) - including battery Display High visibility color screen Interfaces Micro USB Audio socket Antenna port Bluetooth 2.0 Ingress protection IP54 Operating range -20°C to +55°C (-4°F to +131°F) Storage range -20°C to +70°C (-4°F to +158°F)(with battery) Charging range 0°C to 45°C (32°F to 113°F) Humidity tolerance 0% to 95% Battery Type Lithium-ion, 3.7 volts Talk time Up to 8 hours Standby time Up to 100 hours Charging time 3.5 hours Satellite telephony 2.4kbps voice codec Speakerphone option Voicemail Speed dial 1 Supplementary voice services Call history Caller ID Call waiting Call divert Call holding Conferencing Call barring Speed dialing Fixed number dialing Text-to-text 160 Latin / ~74 non-Latin characters up to 10 concatenations Standard and predictive text Text-to-email 160 Latin / ~74 non-Latin characters up to 10 concatenations Incoming email - 160 characters Web message-to-IsatPhone Pro Free from www.message.inmarsat.com GPS location data View position Send as text/email Features Calendar Alarm Calculator Minute minder - in-call alert Microphone muting Contact synchronization With MS Outlook 2007 (PC) O/S compatibility: Windows XP Pro SP3 and Windows Vista SP Data: Transmission speeds of about 2.4 Kbps or 20Kbps with compression are standard, this should not be considered a normal Internet connection. You will be required to configure your email and other applications to transmit and receive minimal amounts of data for this service to be practical. SatStation SolarPak 18 Foldable Solar Panel Solar Panel: 18W Output: 18V * 1A Output Interface: DC5521mm Dimensions: Folded - 17.5x18x8 cm Open - 37.5x80x.5 cm Weight: 2 lbs Pelican 1200 Watertight Case Specifications: -Color: Black or Yellow -Weight: 2.82 lb. -Dimensions: 10 x 5 x 8 (inches)

NorthernAxcess:

Product Shield Plan

Two Years:

$199.00

Free Repairs:

Basic Repairs

Software Upgrade:

Firmware Upgrade

Point of Contact:

Messaging

More Information See:

Product Service & Protection Category
Product Reviews
This product hasn't received any reviews yet. Be the first to review this product!